Netherlands to Slovenia: let's finish this!
Today's post is a two for one special: since I was certifiably wrecked after my adventure yesterday (described as day 8 below), I'm covering both rides at once. The format of this post: story and photos from yesterday, then story and photos from today. At the very end I share some conclusions.
Day 8: Bruneck to Villach
This was the longest day of the tour, a ride of two rivers. Starting as early as it was light out, I set off from the German-speaking Italian town to climb upstream along the Rienza, the gradient gradually mounting as the water flowed more and more swiftly in the other direction. This section of the route, complete with another pair of wonderful lighted tunnels, reaches its highest point (1200 m) at the border with Austria, the meeting point between South and East Tyrol. This long uphill pull at altitude afforded plenty of photo opportunities of the dramatic mountainous backdrop dotted with cozy little villages.
Over the continental divide
Switching over to the Drau river, the remainder of the ride would go downhill, or at least that's how I imagined it when I plotted almost 200 kilometers on one day. In reality, of course it wasn't as easy as just coasting for 6 hours. The first part, until Lienz, did live up to the promise of downhill momentum. I cruised into town right around 1pm, ready for a calorie boost to get me through the rest of the day. Confession: it's not a place I'd normally go, but McDonald's is a hungry and hurried cyclist's dream come true. Loaded up with some sandwiches and legal drugs in my system, onward I continued toward Villach on Austria's R1 cycle route.
From this point, the gravity assistance faded away and the cycle route linked gravel paths with logging roads through the hills. The settlements I passed through in this segment were so small and quiet they would not qualify as villages; they didn't even have churches!
Approaching Spittal an der Drau, I came across a bike repair stand, just sitting there on the side of the highway. It was a cacophonous environment, but at least it sufficed to give my newly replaced front tube a little more pressure than I could manage with my hand pump the day before.
Leaving the town behind, I caught up to a couple of cycle tourists, an exceedingly rare event on this trip! Originally from Munich, they explained they were also heading to Villach, tracing the Ciclovia Alpe Adria Radweg which would lead to Udine in Italy. By the way I think the name includes "bike way" twice.
Since I was going a little faster, I bade good luck and moved forward. By now, the wind had picked itself up, howling in exactly the wrong direction. Luckily for me, a savior appeared a few kilometers later. Riding a sky blue Specialized road bike and carrying a transparent bottle of pale yellow liquid, an energetic German student overtook me on an off road section. I surged a little to stay in his wake and introduced myself and my worn legs. On the cross winds we chatted a little but in the direct headwinds I could only follow, keeping about 3 meters distance behind. Thanks to him, this last section flew by and I reached Villach right at sunset.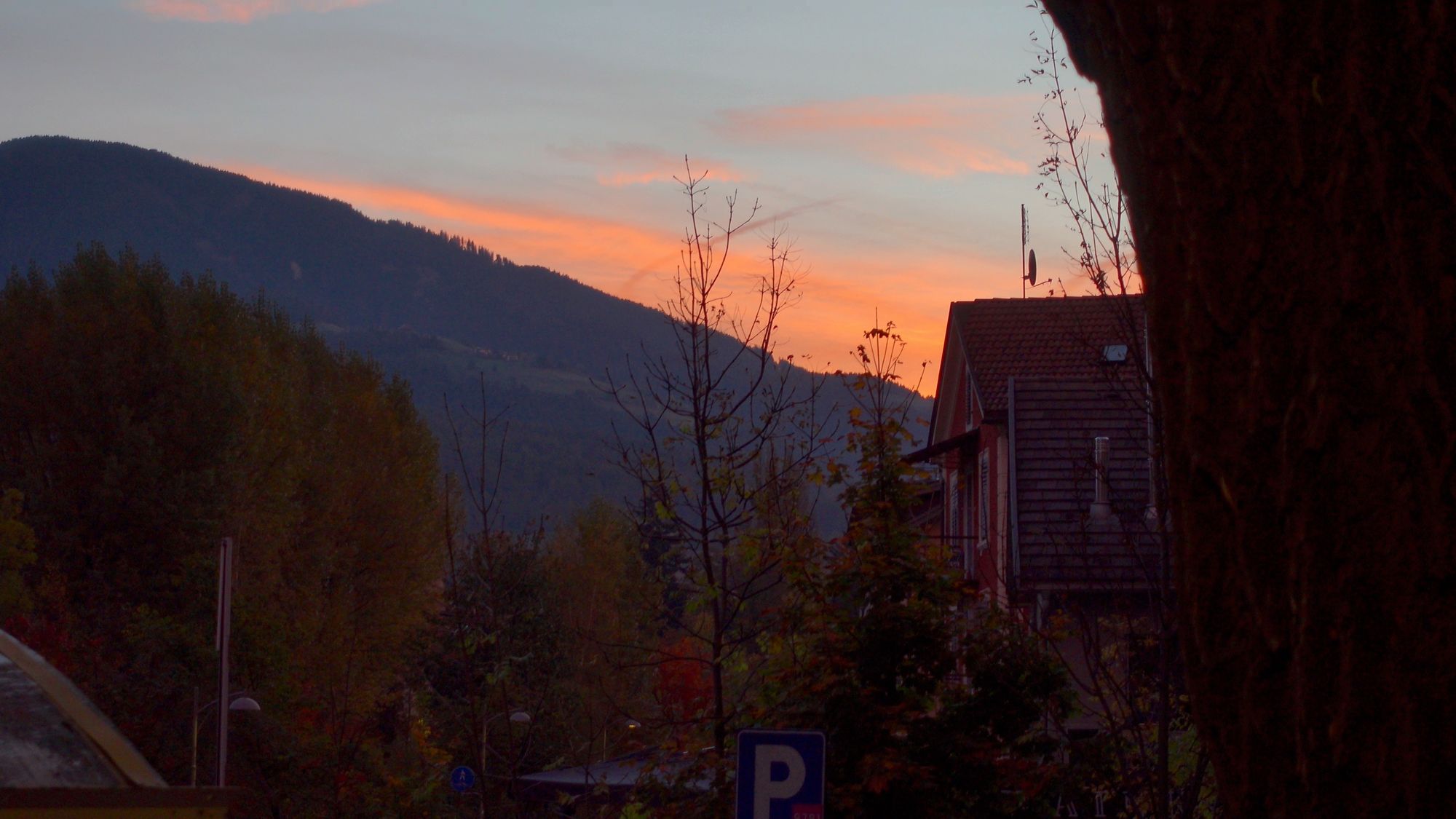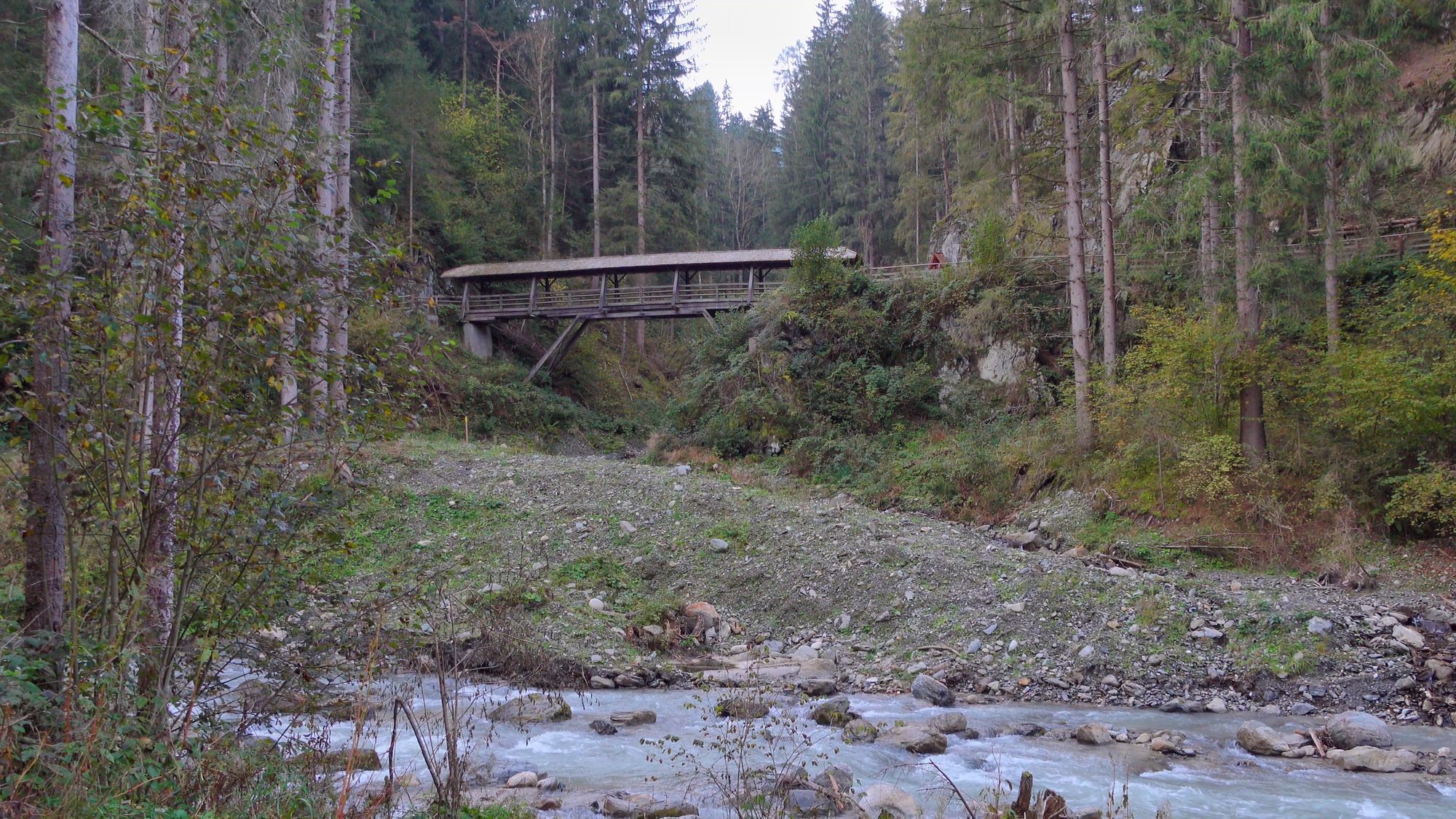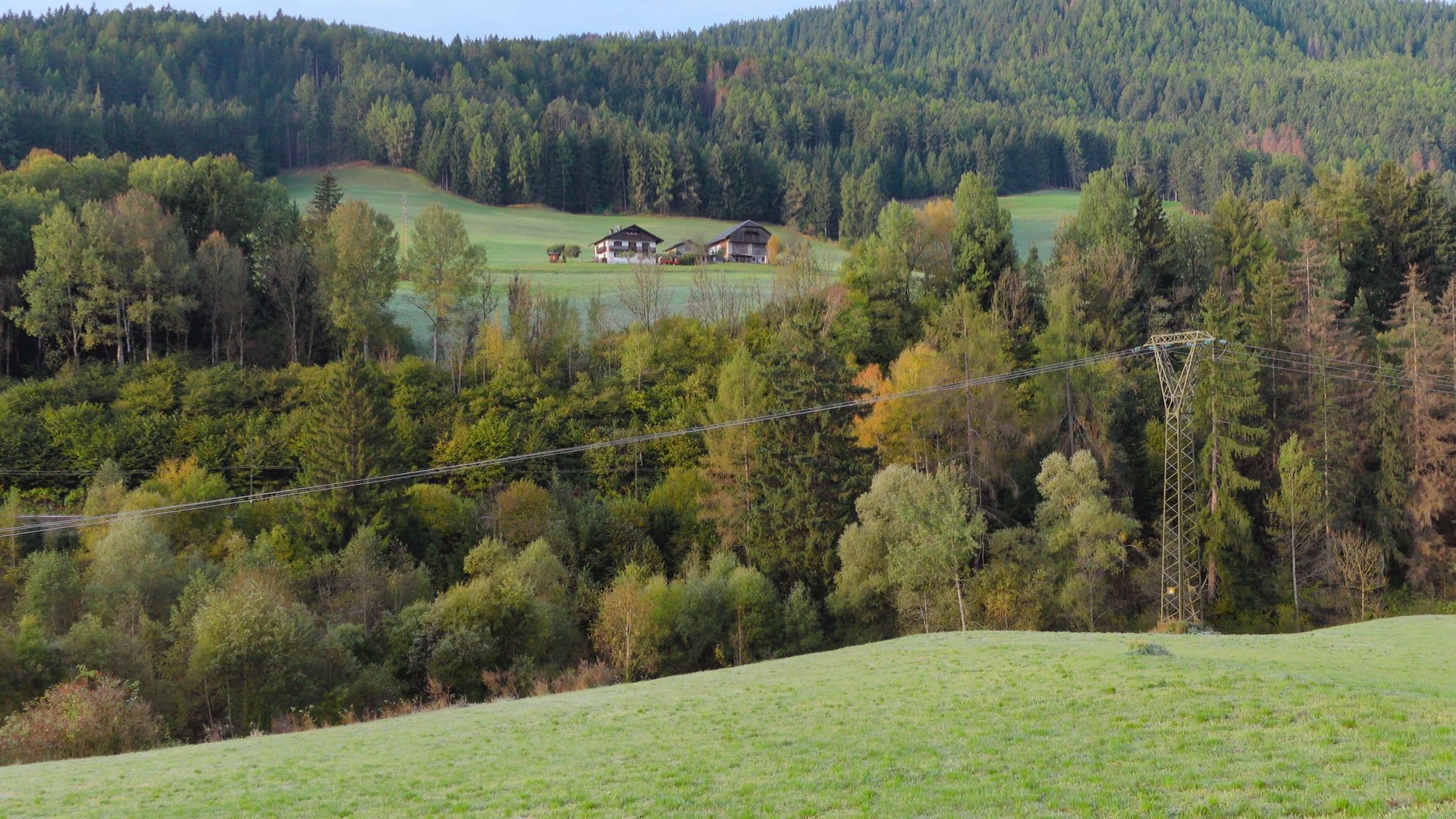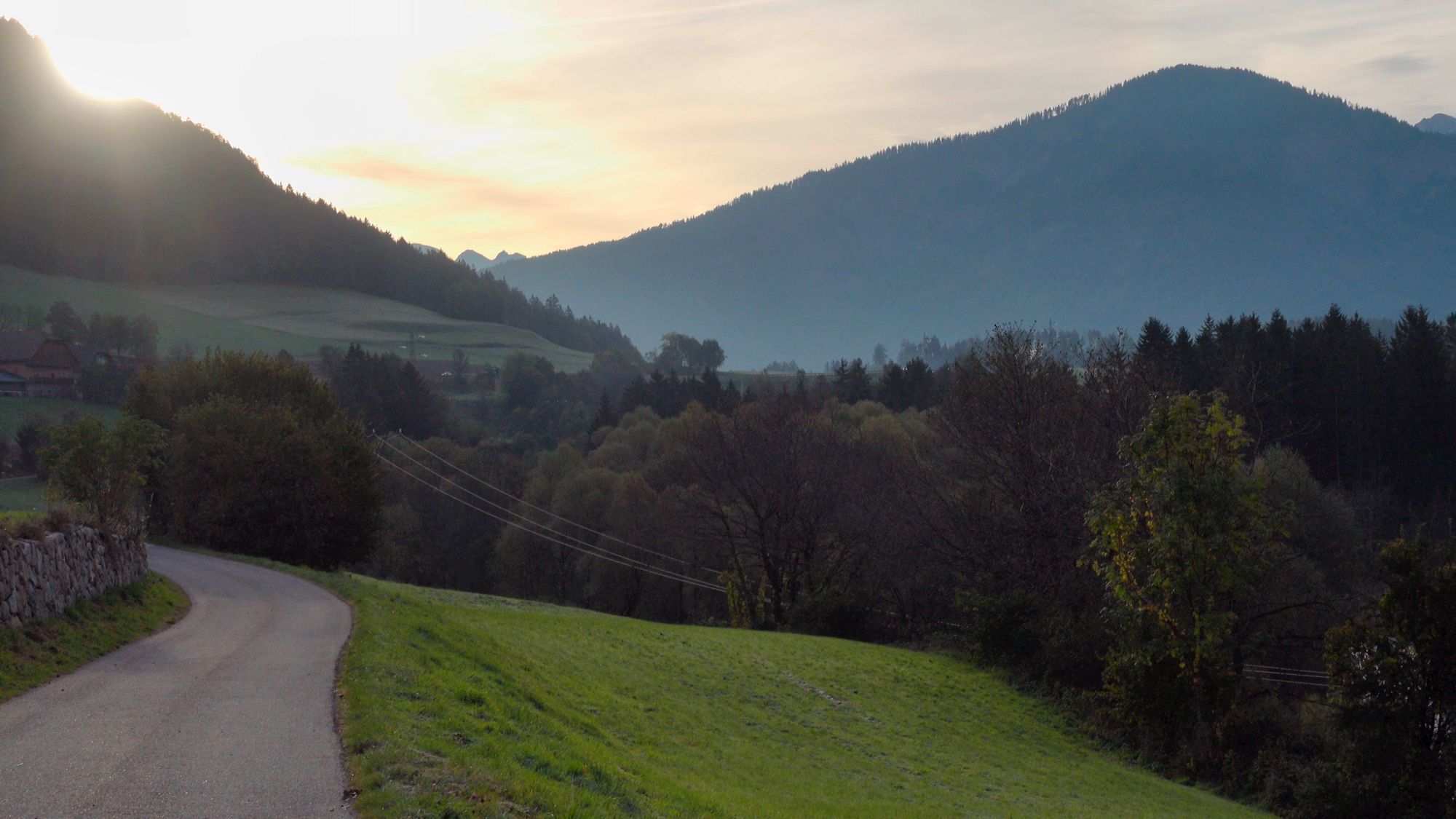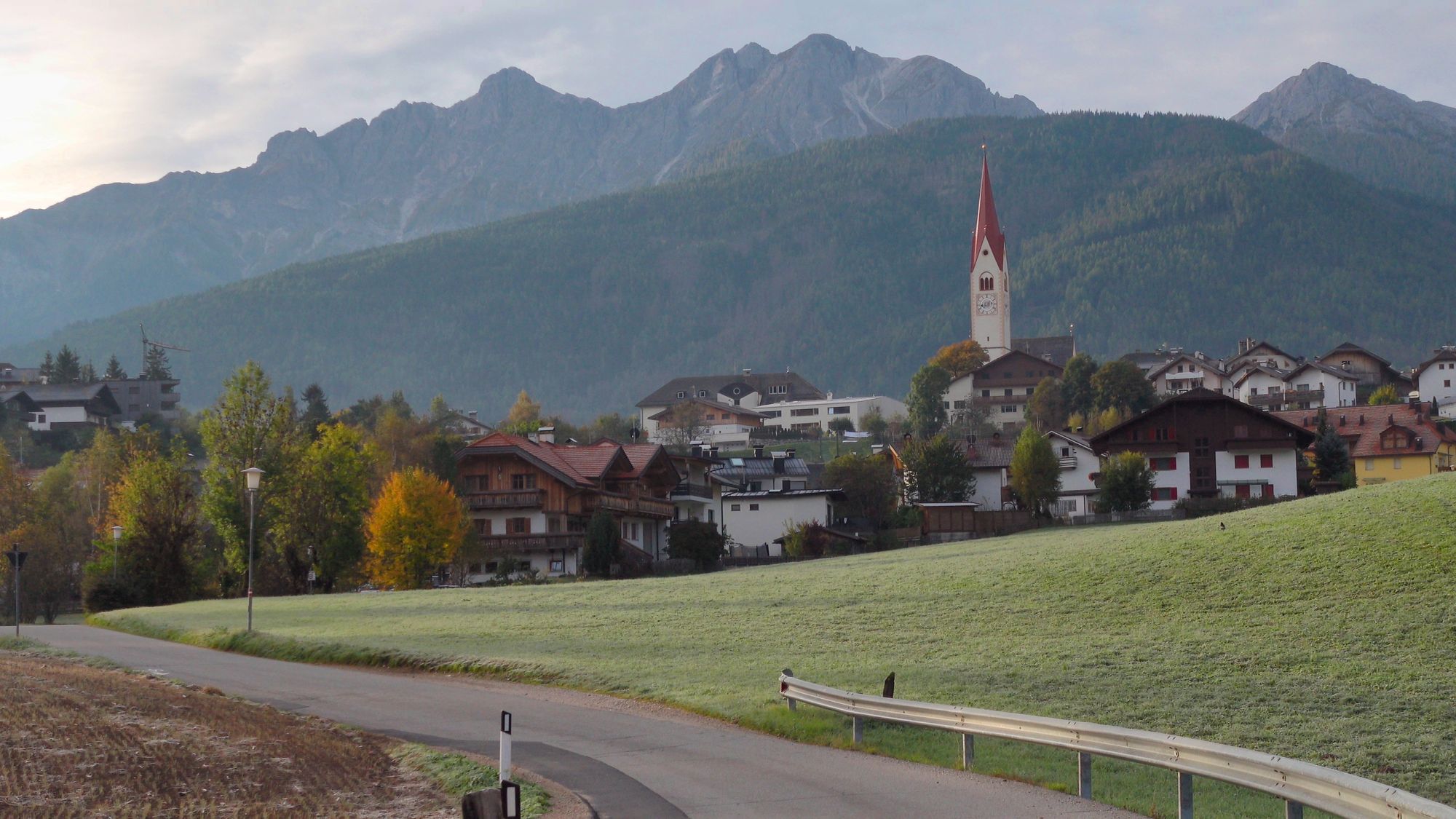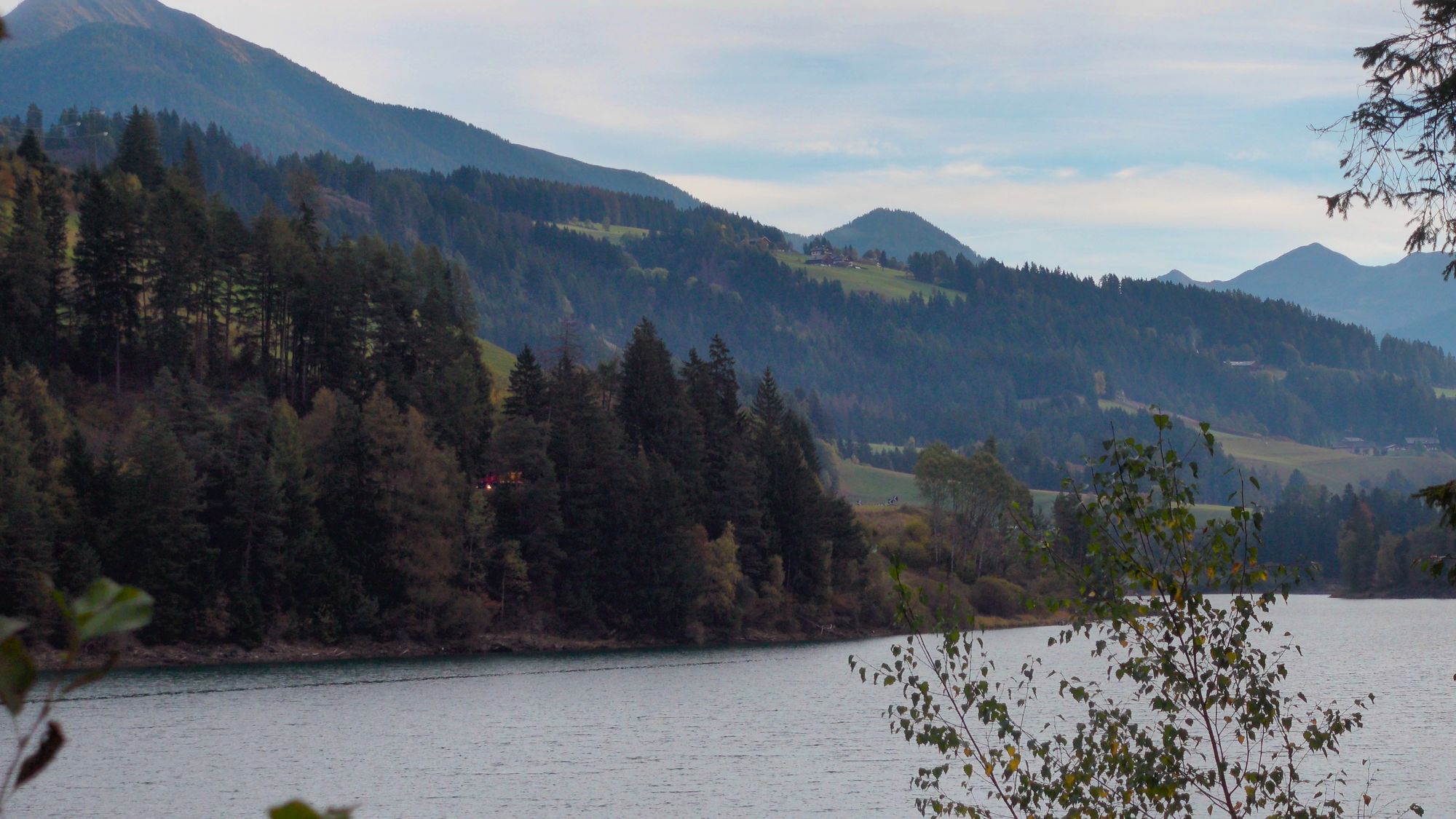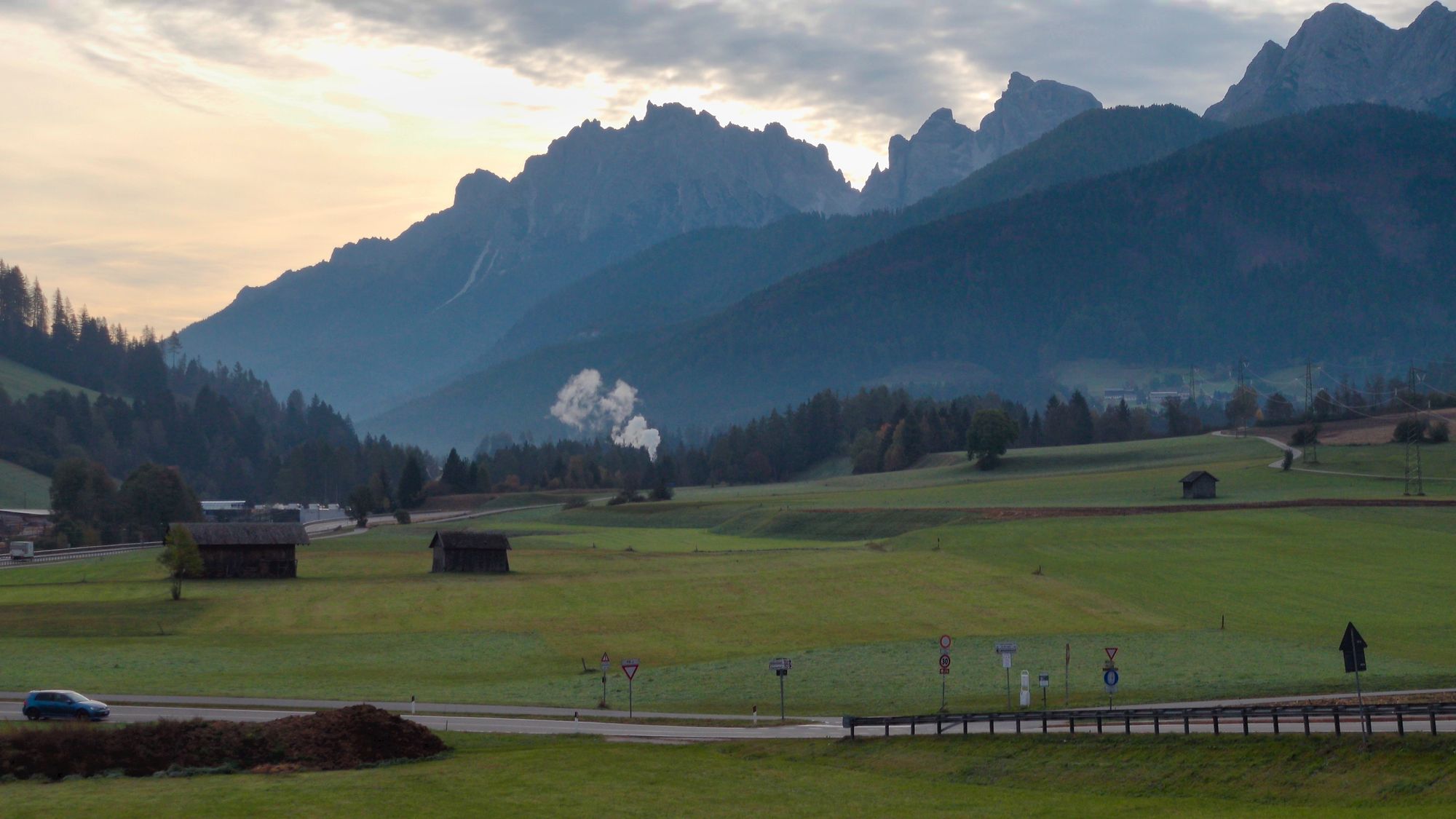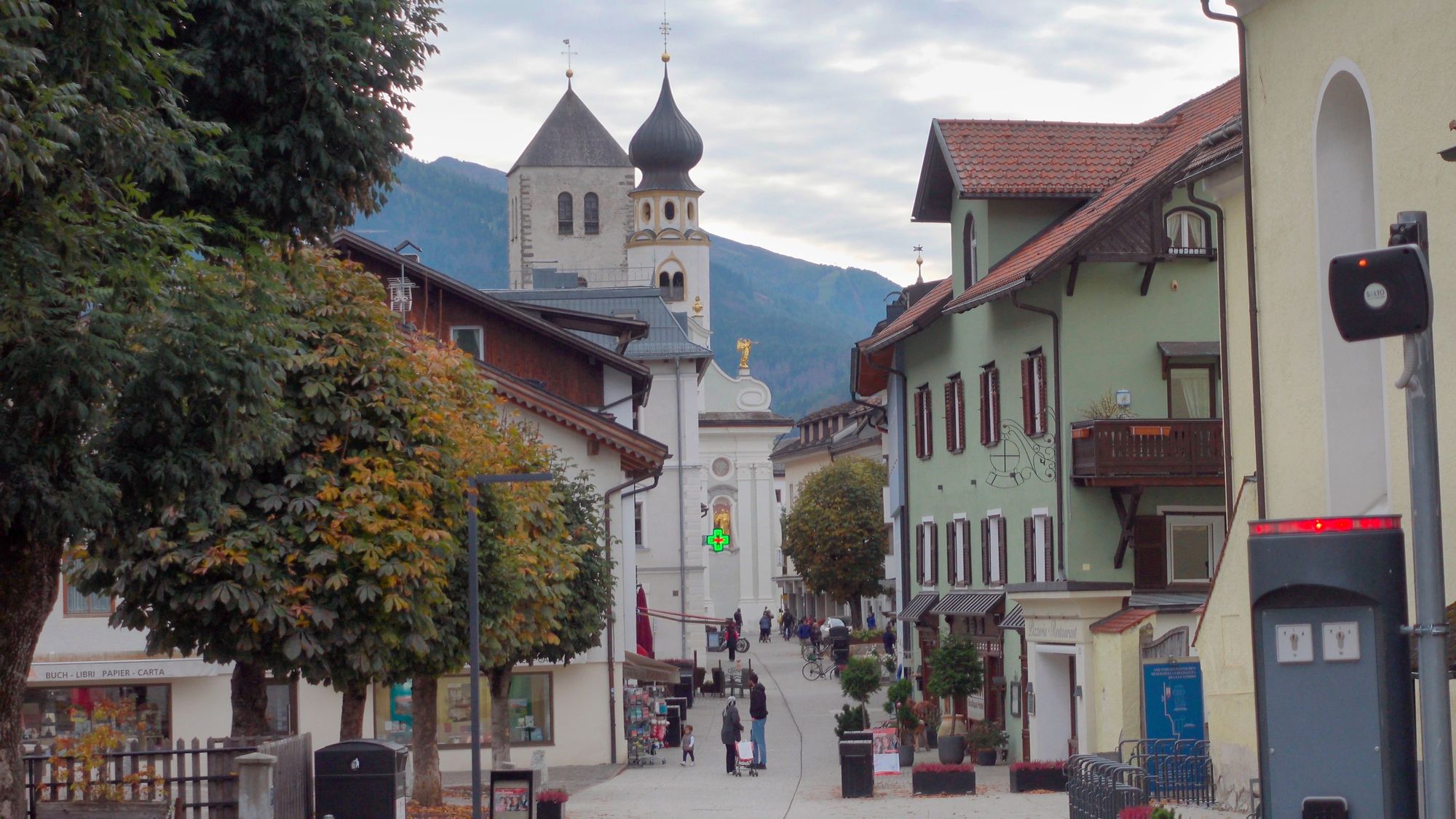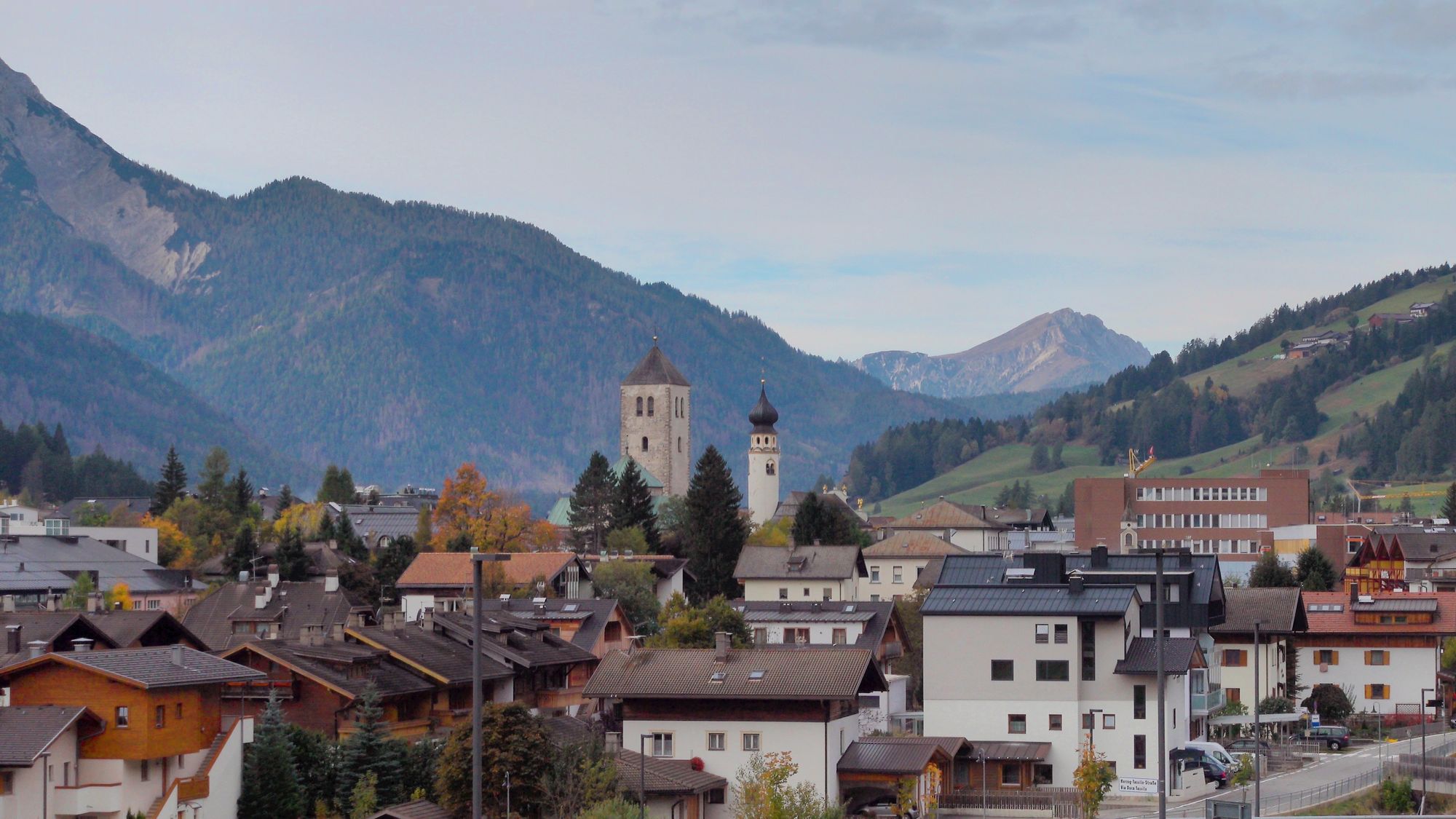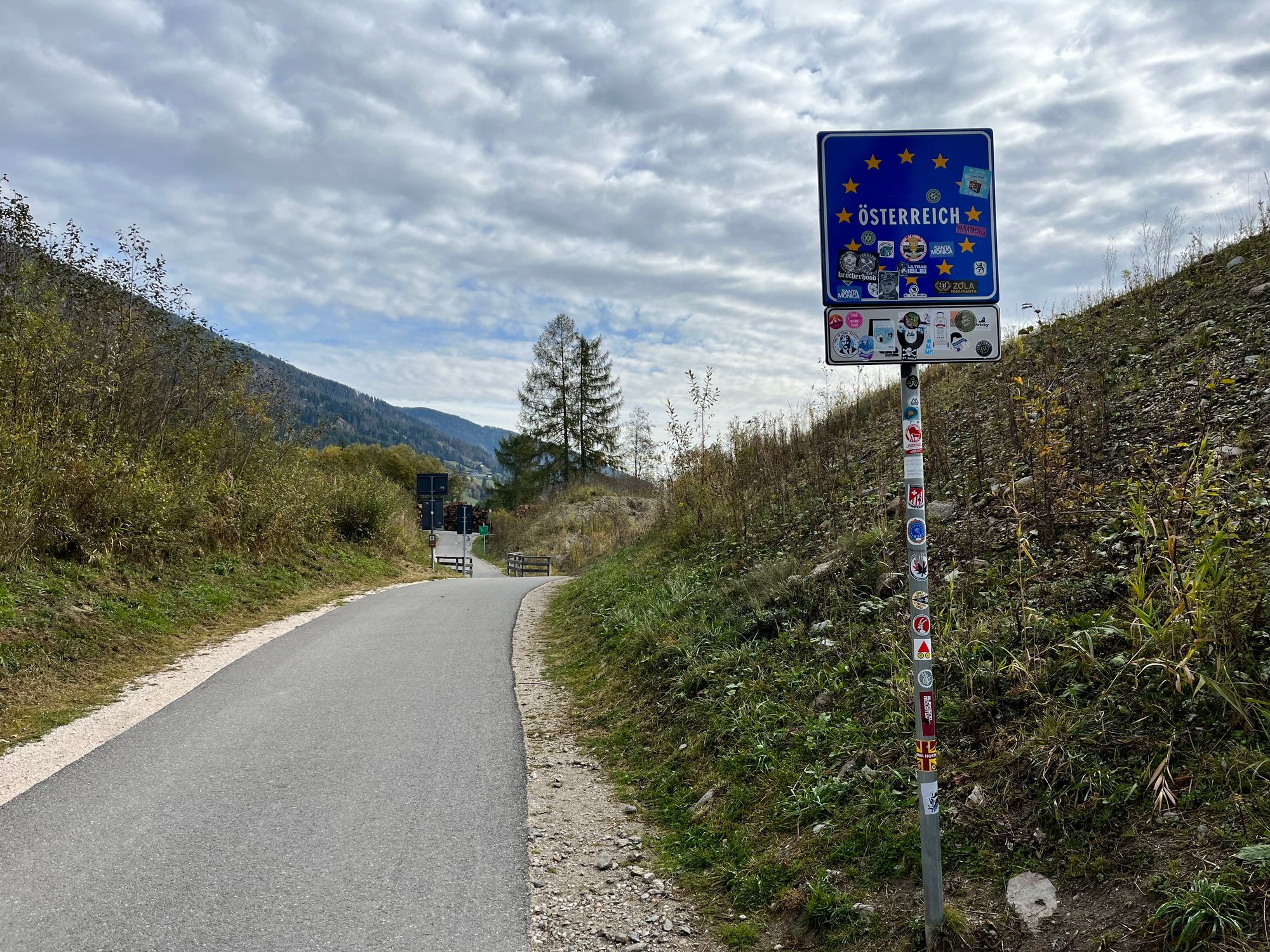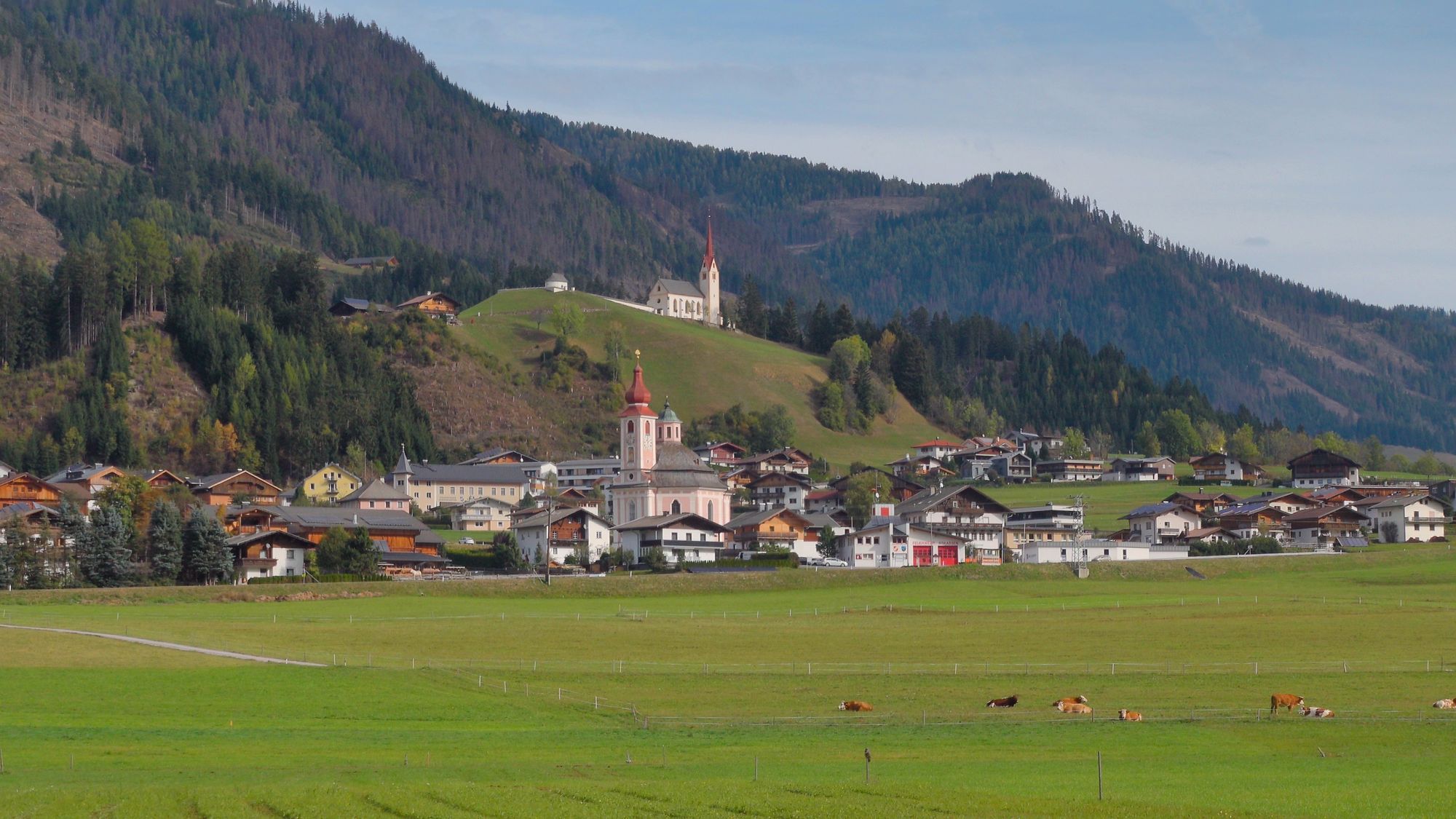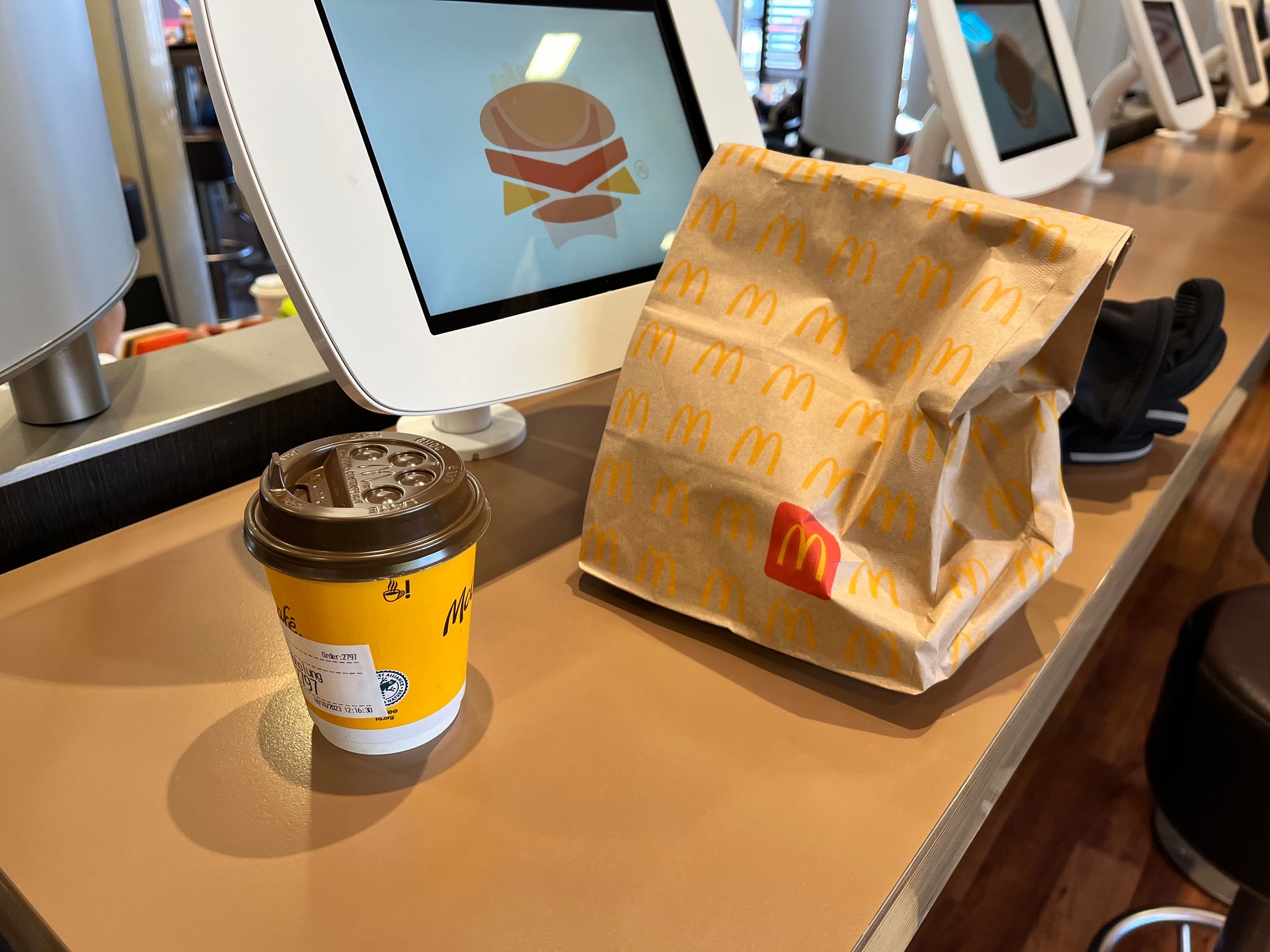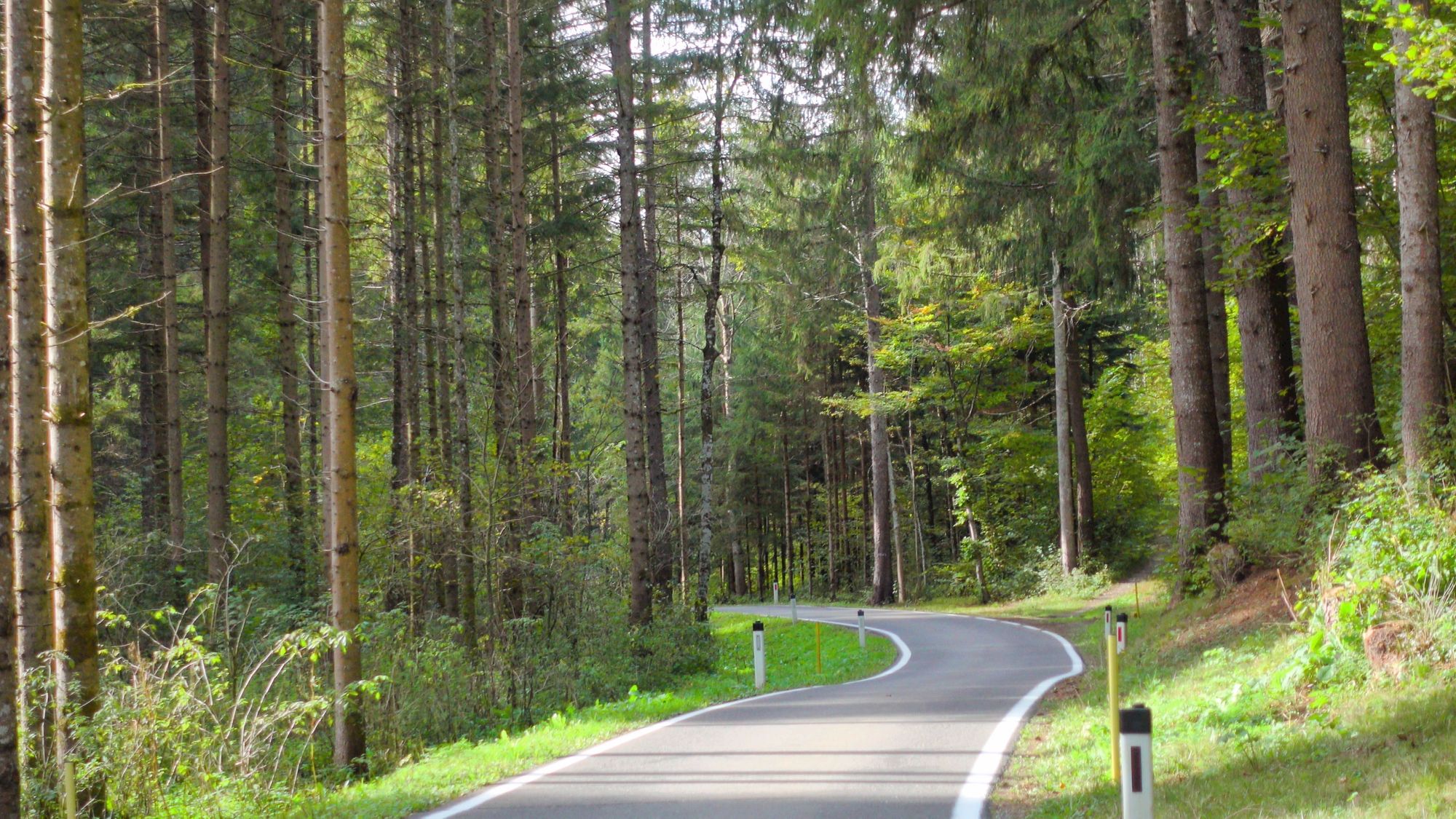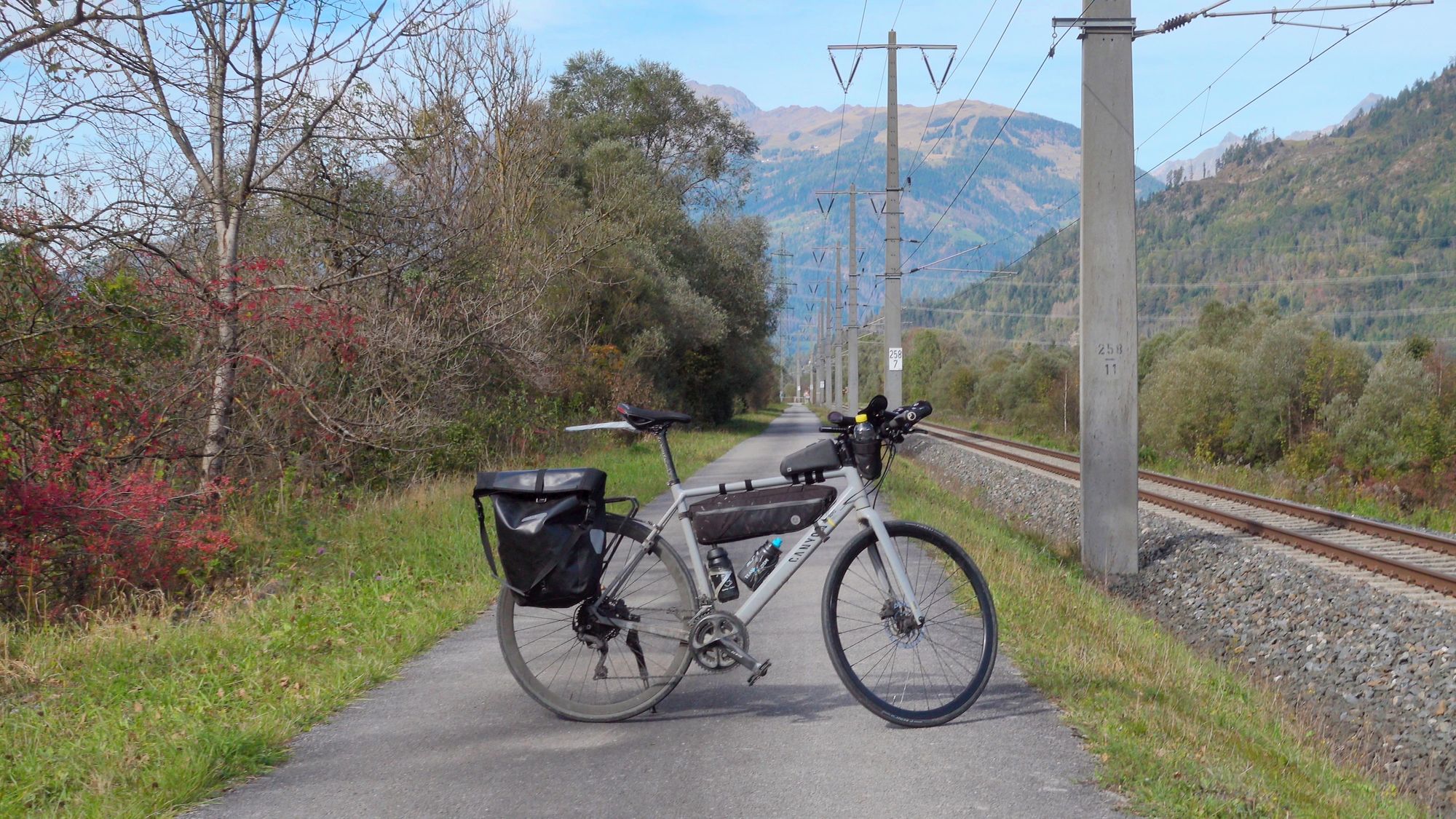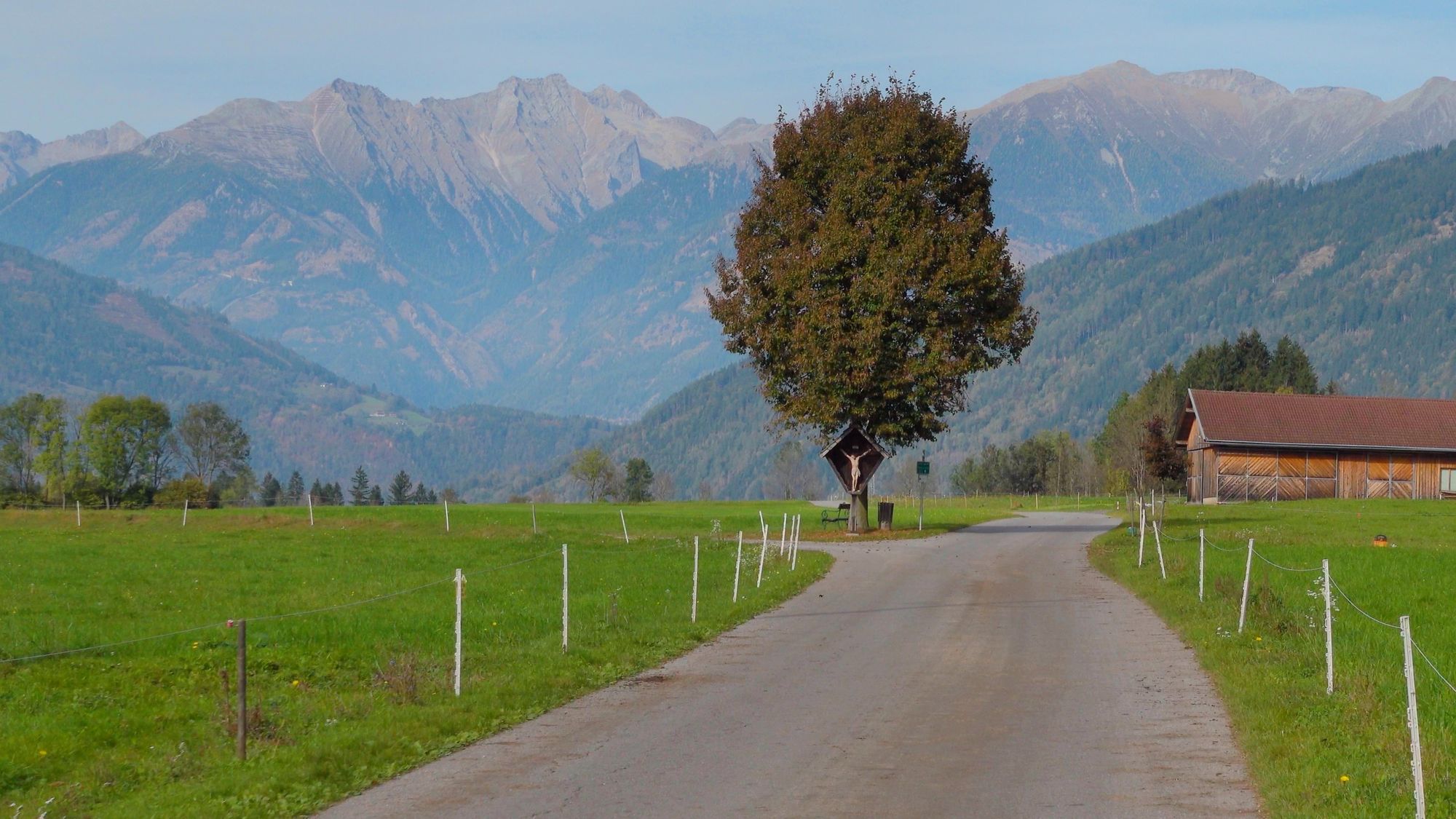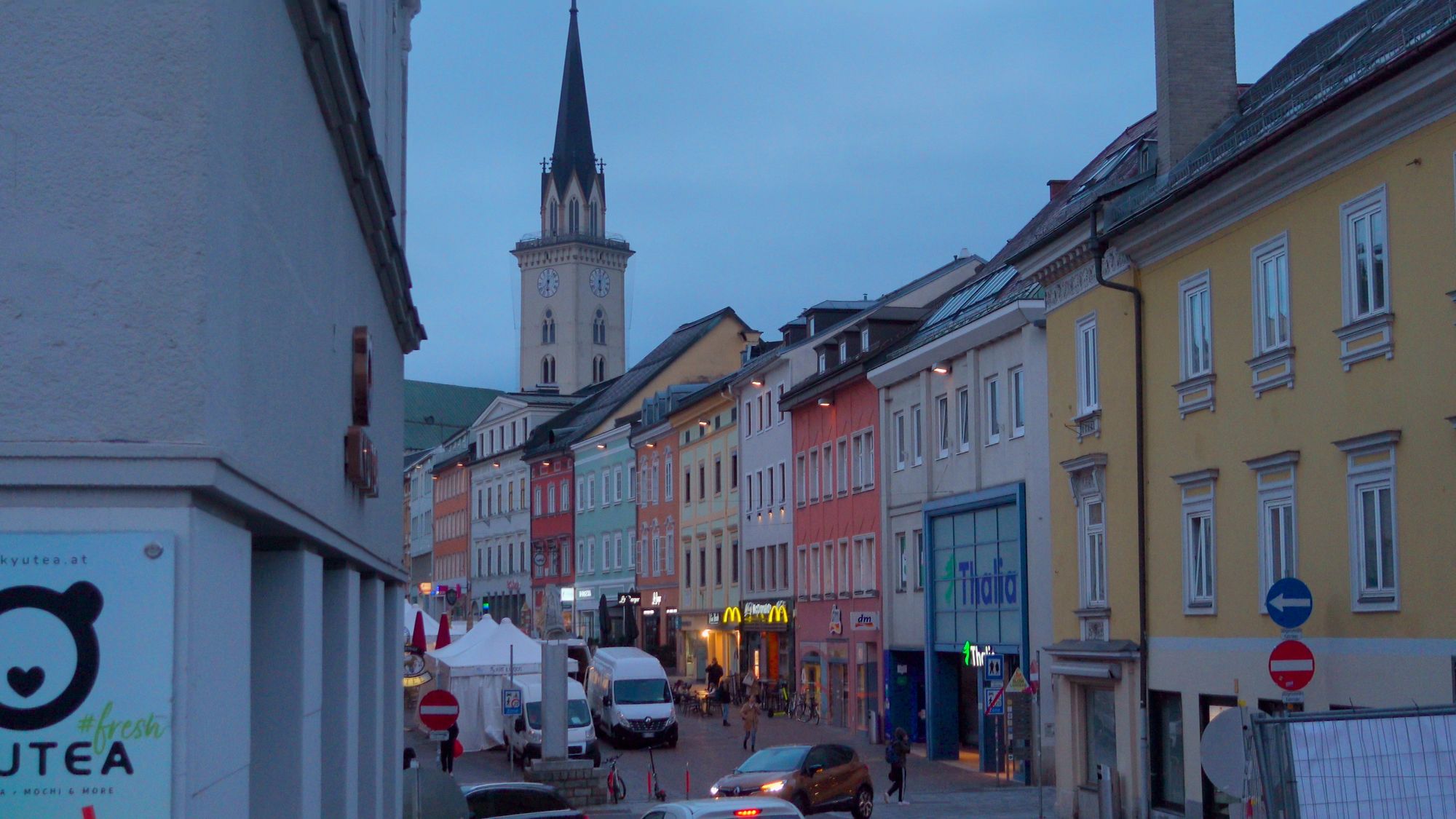 Day 9 (final): Villach to Jesenice
To tell the truth, I mistimed the trip by a day. I left last Wednesday, thinking 9 days would let me arrive on this Friday. But of course Wednesday to Wednesday inclusive is 8 days, not 7, so I had a day in hand if I wanted a rest. Unfortunately, the forecast from Villach to Ljubljana was rain every day. Even delaying a day wouldn't help: tomorrow is likely going to be even wetter.
Thus, knowing it wasn't going to be easy, I mounted my tired legs back on my bike and pedaled off from the Austrian city before 8 am. The industrial outskirt stroad populated with gas stations and car dealerships took a bit of time because of long red lights, but eventually I pushed out of the populated area and into the muddy and bumpy trail signposted as the Ciclovia Alpe Adria Radweg (for some reason the signs write out the whole name every time so they use a very cramped font).
Last 2 borders
Igniting my knotted thighs and pegging my heart rate once more, I launched full power up the climb crossing the Italian border toward the town of Tarvisio. At the border itself, the trail veers right and switchbacks up a sheer cliff face. The misty atmosphere, dense trees, and dramatic gorges on this section reminded me of the Snoqualmie Valley Trail near Seattle. I've written about that one too!
After climbing my way through Italy around the three country tripoint, I finally reached the final approach to Slovenia, a long but shallow climb to 900 meters elevation. Oh, by the way, the rain had been falling in earnest for a while at this point. This final border crossing gave me a great sense of accomplishment, which I celebrated by zooming down the smoothly paved descent.
The rain lashed my face and drenched my feet through the double socks I wore. I glided through the alpine town of Kranjska Gora without stopping, even though it looked inviting. I guess that's my main problem with touring while wet. If I'm just pedaling the entire time, it's not too bad, but the other fun things like stopping for a picture or dropping by an interesting store or reading a historical marker become energy-sapping ordeals. Thus I cut off the last 50 kilometers to Ljubljana and rode the (cheap!) train from Jesenice to the capital.
A few days ago in Germany, taking the train made me feel a little guilty, like I was afraid I had disappointed my future self by leaving a gap in the trip. But today I felt none of that, simply happy to reach my goal!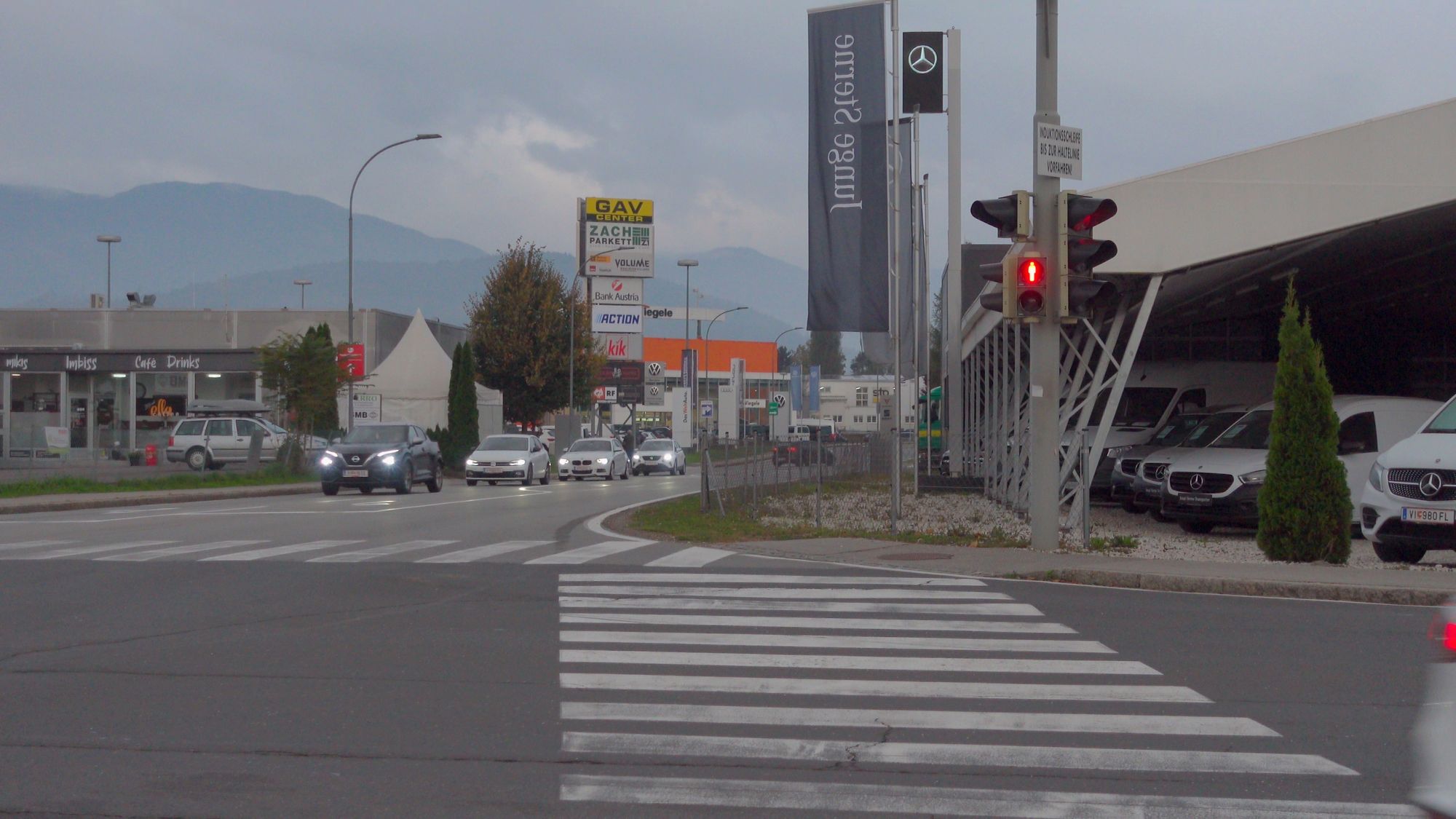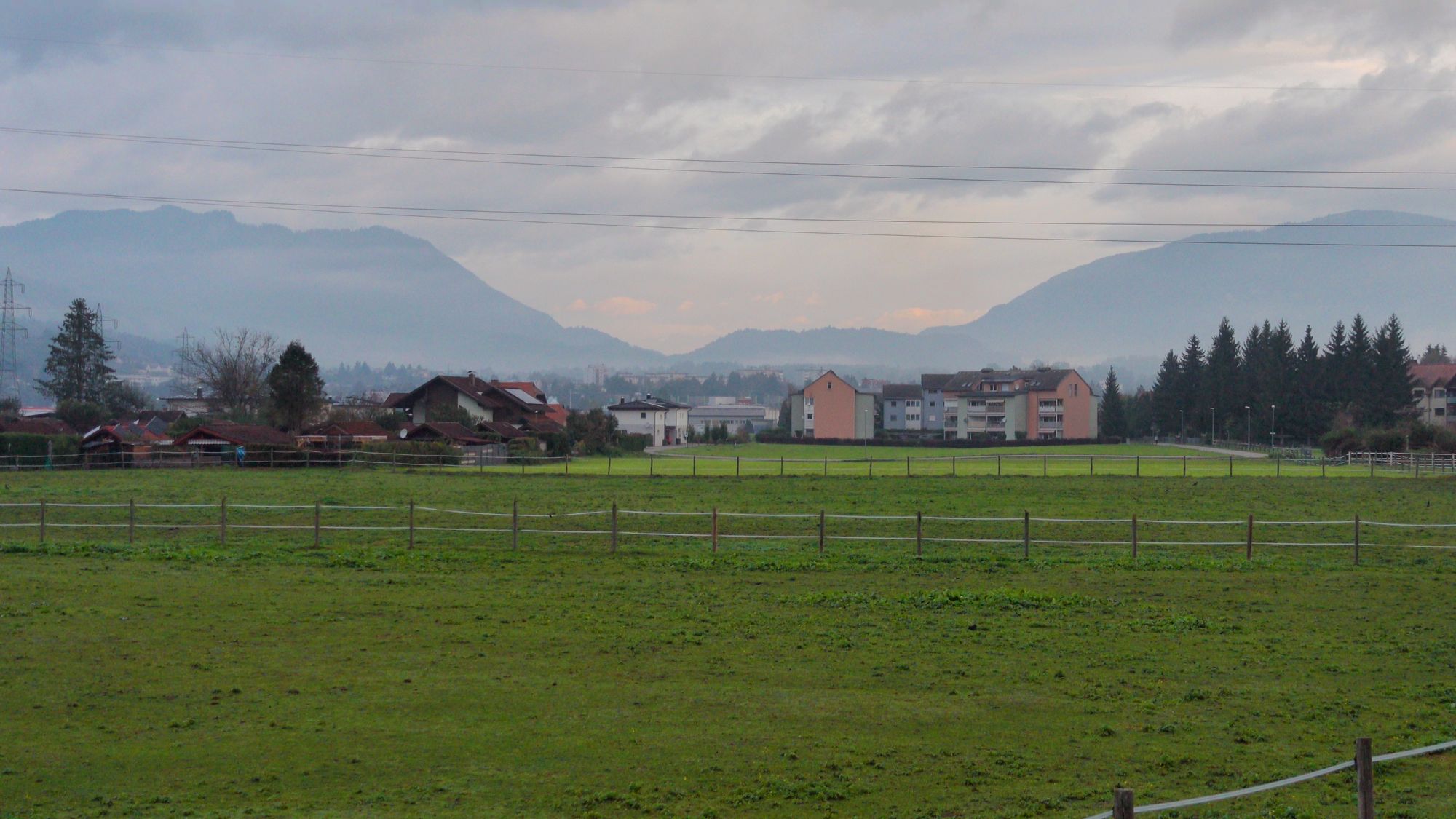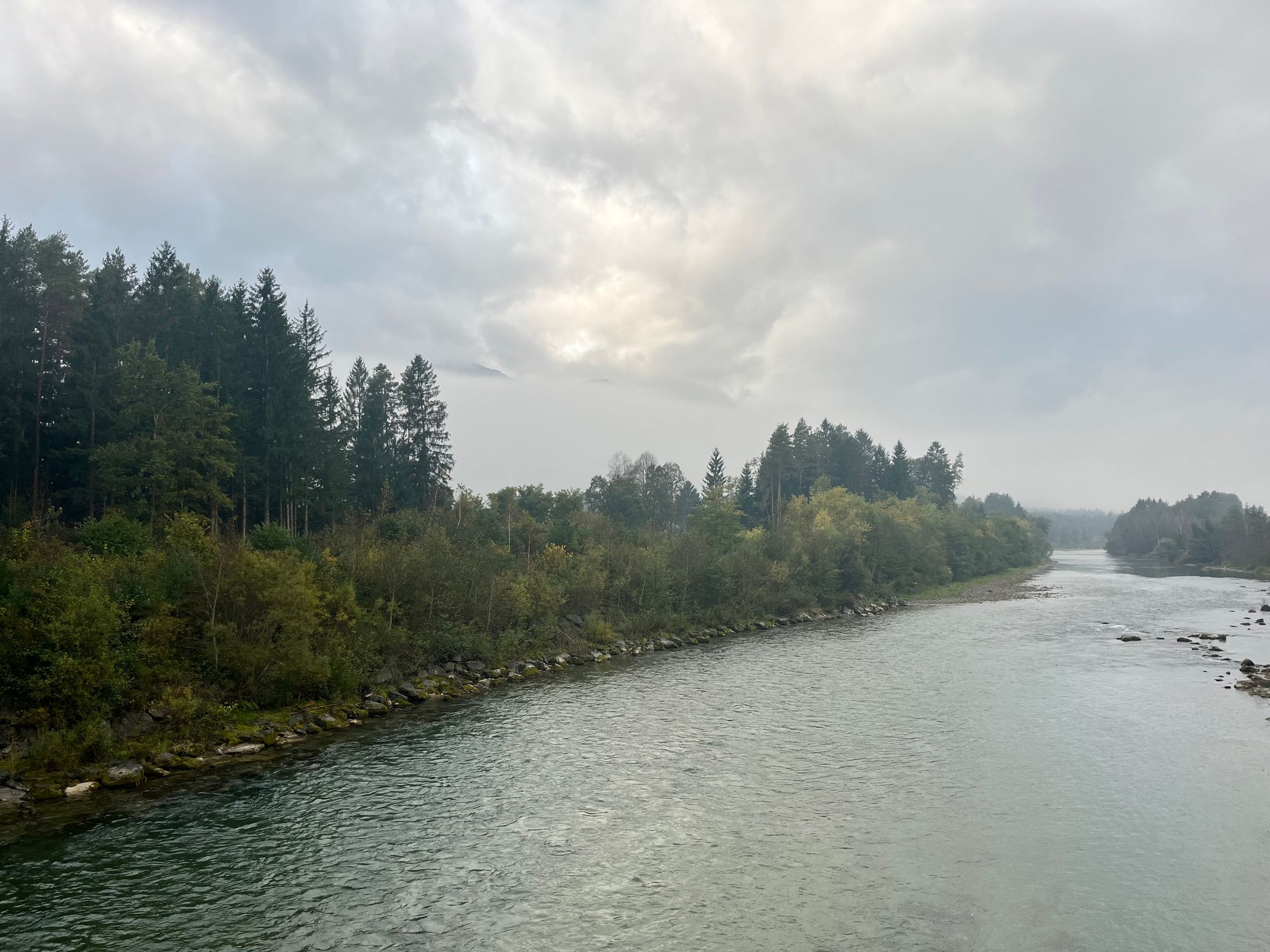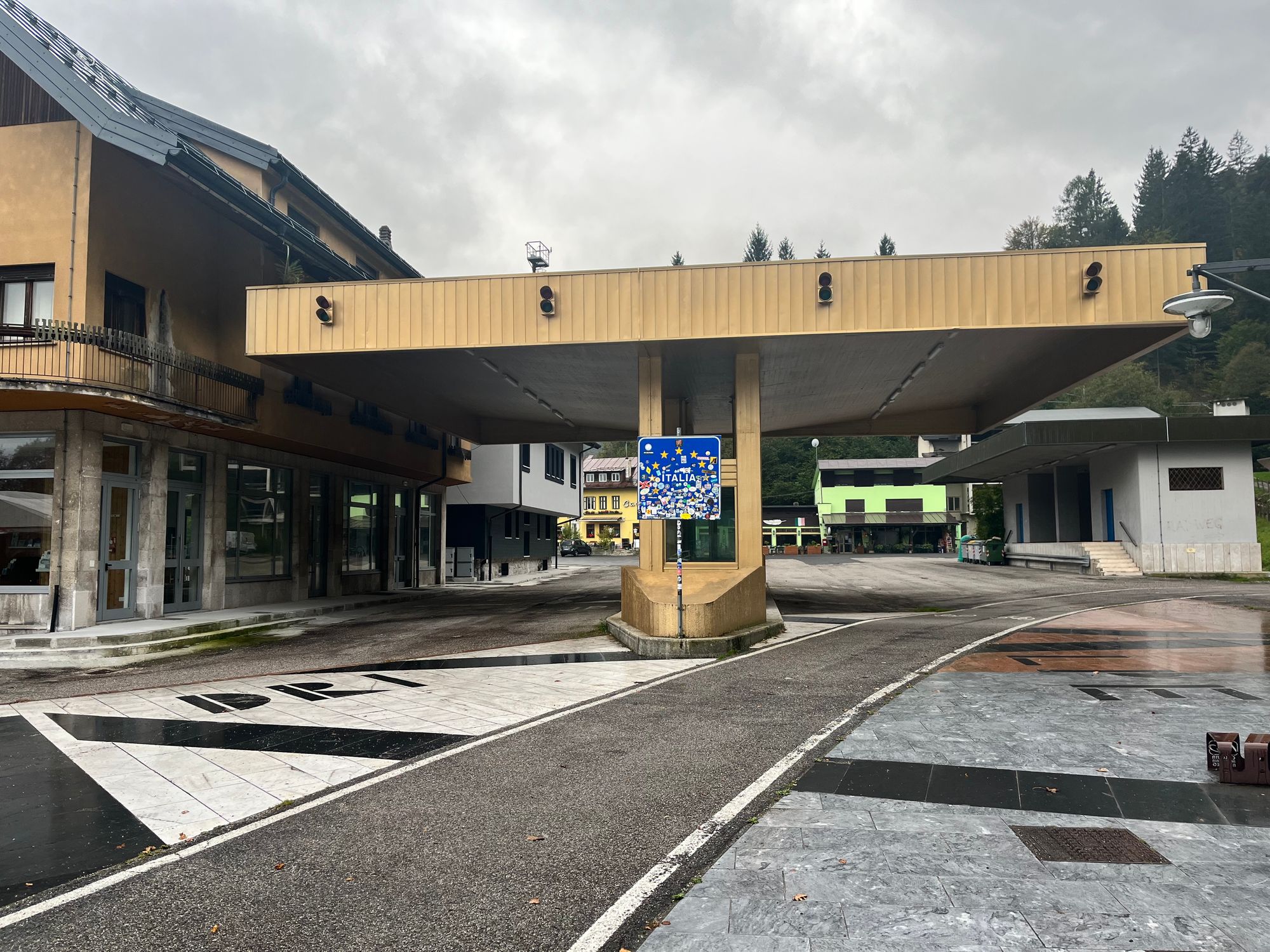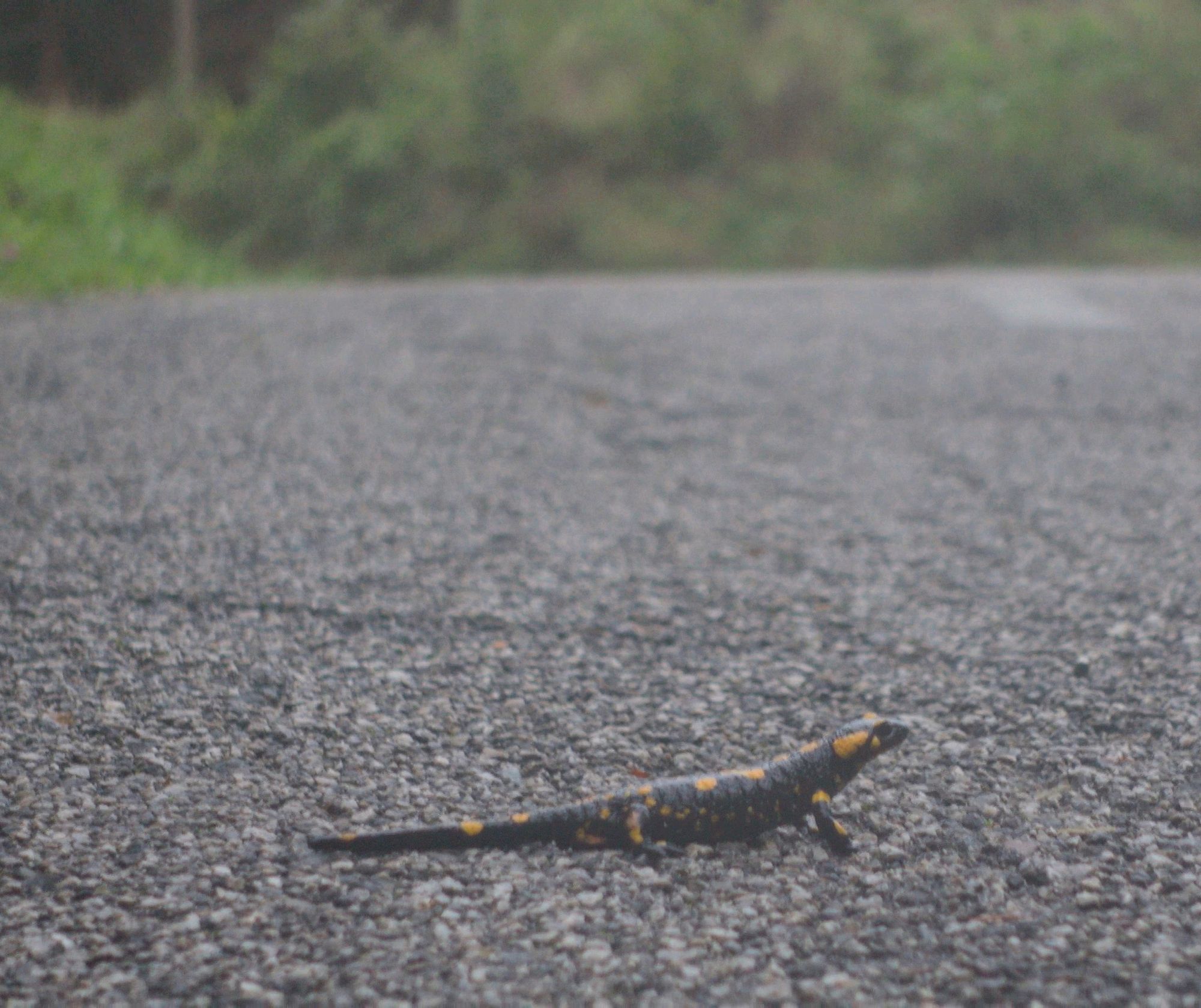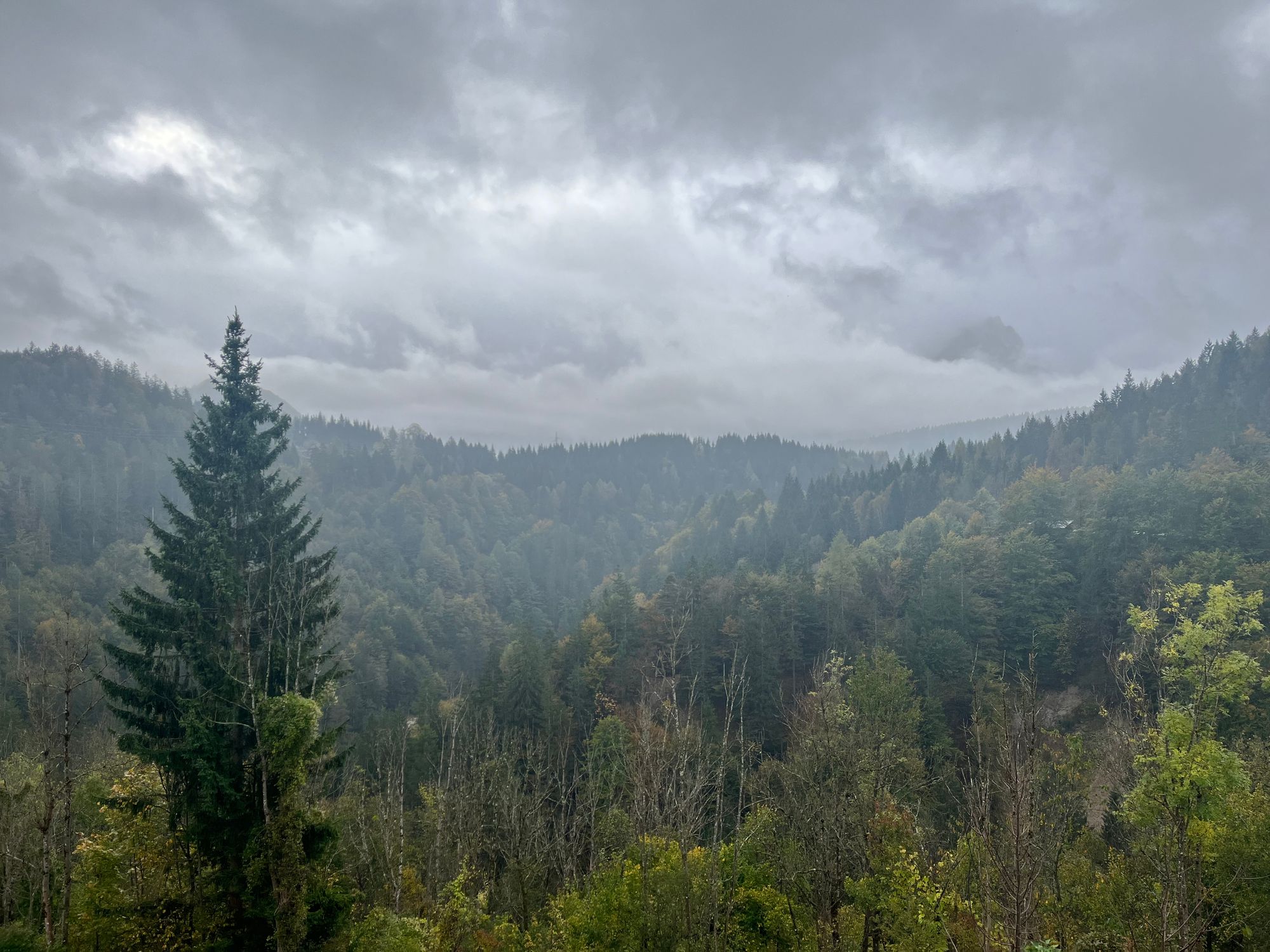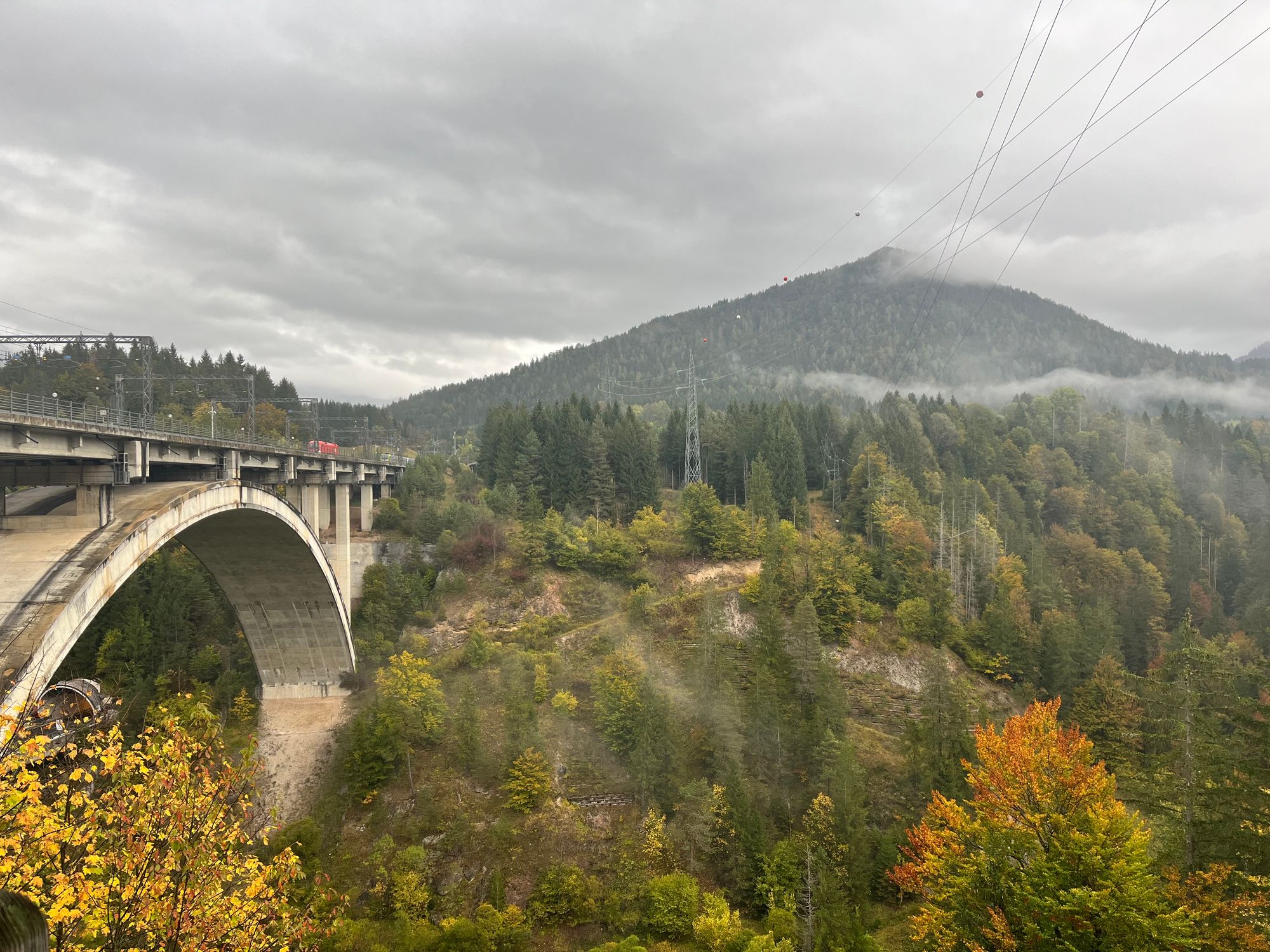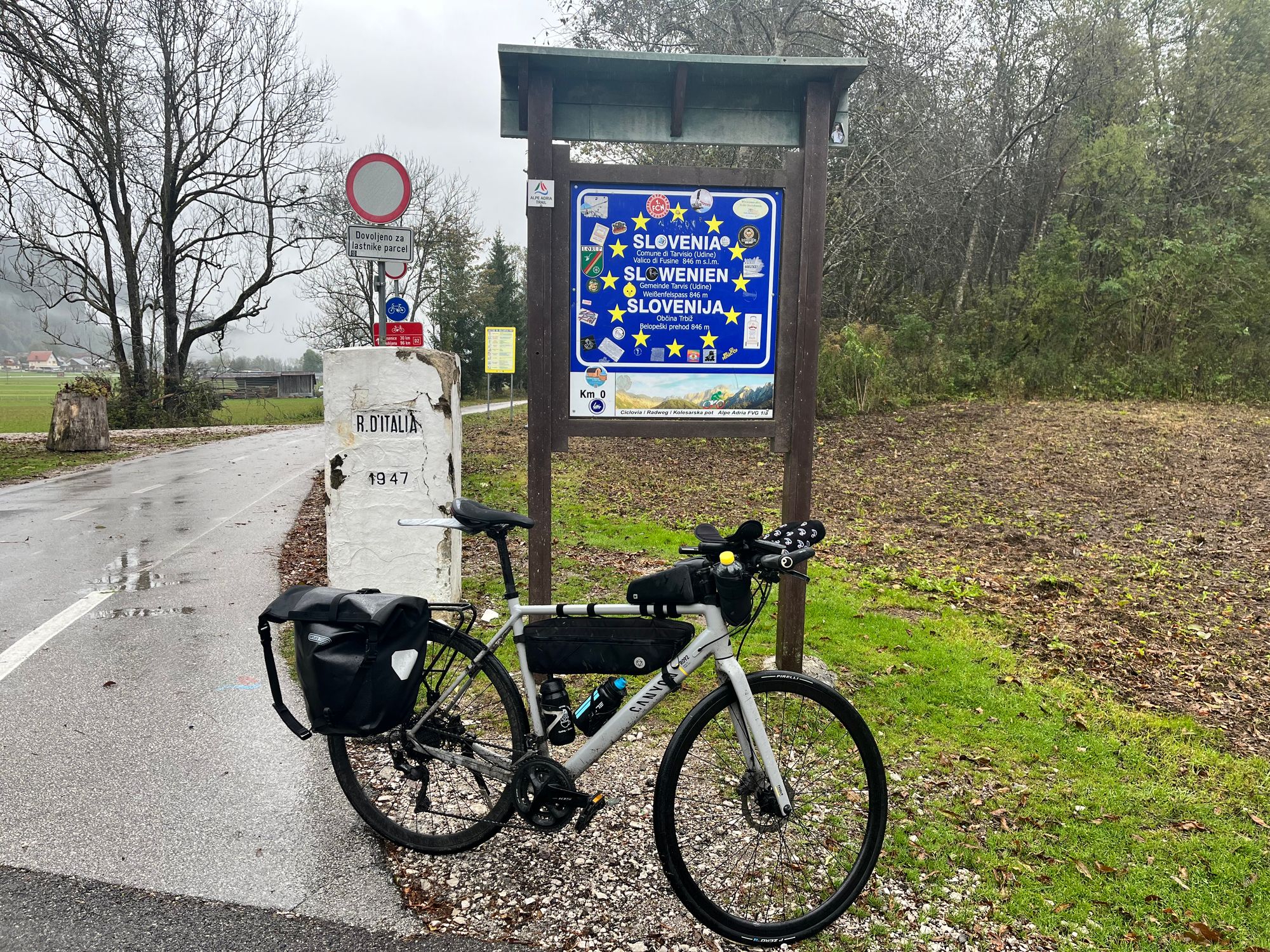 Conclusion
Overall it was a great experience. They say type 2 fun describes something that is not fun in the moment, but is fun to look back on. But I think once you've felt this a few times, it gradually becomes type 1, something that's also fun in the moment. Somehow my sense of enjoyment has adapted to take into account the prediction that I will look back fondly. The point is that despite getting wet and facing each country's best attempt at blowing me away, I still enjoyed the trip just about the whole time.
I'm especially glad I traveled fairly light and booked a hotel or hostel for each night, so I could sleep on a real bed and soak up a hot shower. My top tip is to splurge on breakfast included whenever possible.
On most riding days I covered around 130-160 kilometers, which pushed the limits of available daylight in October. In the future I'd like to give myself some more time to stop and chill with a lunch or coffee in the nice little towns along the way, like I could enjoy last summer riding across France. Still, I'm happy I put my endurance to the test, though I'm sure my poor legs would protest loudly if they could!
It's going to feel strange and empty tomorrow when I wake up and don't have to spend all day cycling...
Thank you for reading, and I hope you liked the photos!